STUD DOGS
In this section you will find some of the greyhound stud dogs we have used during the years...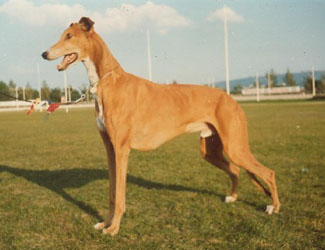 Int Nordic Ch Dogcastle's Humber Hawk
was bred by Mrs Ingebjørg Stenhaugen, Norway in 1966 and owned by Laila & Jan Feyling, Royvind knls, Norway. He was line bred to Eng Ch Treetops Hawk and had an impressive showing and siring career all over Scandinavia. His most famous litter was perhaps the Gulds G- and H- litters. He sired the Showline "Strawberry" litter by AI from old frozen sperm.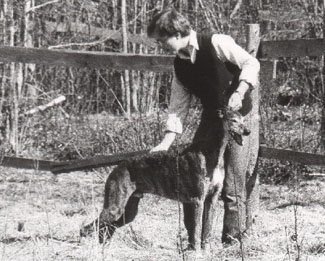 Int Nordic Ch Astor Leader
was bred by Mrs Kari Rønning, Norway in 1971 and was barely shown. He combined the great breed type we were looking for and had that certain "Royaltan Look". "Astor" was an old man when we introduced him to our bitch Int Ch Solstrand Deep Blues of Showline, resulting in the Showline "Swing" litter.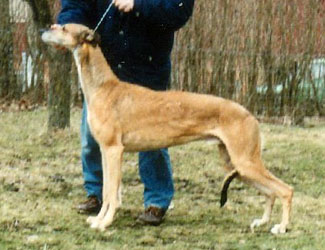 Fran-Chi Red Hawk
was bred by Mr Einar Oskal, Sweden from his bitch Ch Showline Swing the Blues. "Mr" was the only puppy in the litter. In his short life he managed to win CC and BOB as well as siring three litters, at Noblegrey and Skying in Sweden, as well as the Showline "Summer" litter.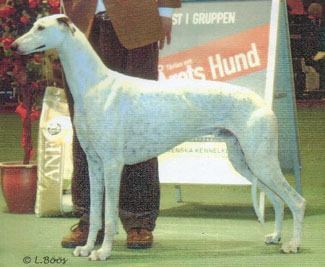 Int Norw Swed Fin Am Ch Aroi Aryal Winter Time Blues
was bred in California by Mrs Georgiana Mueller and Mrs Lila Snow in 1999 and is owned by Berit Klasson, Sweden. "Dot" came from a most international combination. His nice litter mates were winning four of the five classes they entered at The 100th National Greyhound Specialty in July 2002, California. He has several lines to our dogs from the past and/or their littermates, and was the dog we were looking for when planning our latest litter, the Showline "Silent" litter, conceived during a silent night in Finland, where he stayed in a private quarantine, before coming to Sweden, where he was one of the Top Dogs All Breeds 2002.