C.I.B, GB Ch, NO Ch, SE Ch, DK Ch, Nord W-02, Nord W-03, KBH W-03, NO W-04, SE W-04, VWW-10
SHOWLINE SILENT STEP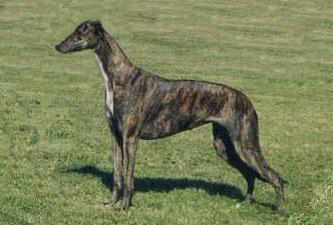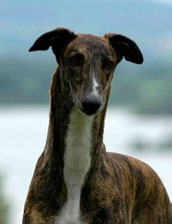 (20 months at picture), headshot by: Hundefoto
Tea is from the Showline "Silent" litter born in Oct 2001. Our Tea has more than fulfilled our expectations. She had a fantastic debut year in the ring, starting with Best in Show x 3 in her four shows as a puppy! Continuing from junior class to win CC's at every show and ended 2002 with BOB at the biggest international show in Norway, The Nordic Winner Show in front of all the top winners from Norway and Sweden under the sighthound expert Mrs Nenne Runsten, Airescot, Sweden.
Continuing in 2003 with even more wins, a total of 20 CC's in 21 shows incl. several Best in Shows. Winning CC, CACIB and BOB as well as her Copenhagen Winner title in September in Denmark under Mrs Elke Peper, Germany. She celebrated her Norwegian champion title with BOB and Group:1 under Mr Arne Foss, Paper Moon, Norway and BIS:2 under Mrs Wera Hübenthal, Norway/Sweden in Kongsberg in November. "Tea" ended the year winning her Swedish champion title, CACIB and the Nordic Winner title in Stockholm in December, in front of several top winning bitches from Sweden, Norway and Finland under the breed expert Mrs Dagmar Kenis Pordham, Solstrand, England! She was one of the Top Bitches All Breed in Norway 2003!
Tea started nicely winning an all breed Best in Show at her very first show in 2004! She even won BOB at The Norwegian Greyhound Club Specialty Show for the 2nd year running. In May she made breed history by winning CC, BOB and Hound Group:2 at the Birmingham National Championship Show in England , being the very first and only Norwegian Greyhound to do so! She has been in the lead most of the year and ended up as No 1 Top Greyhound 2004 and No 1 Top Sighthound 2004 in Norway.
In 2005 Tea started nicely winning an all breed Best in Show:3 and Best in Show at her very first two show in 2005! She continued to dominate the rings and ends up with 18 group wins and 8 BIS wins and for the second year running as Top Greyhound as well as Top Sighthound bitch.
We returned to England to enter her at two shows, winning two more CC's at Windsor and Leeds incl BOB, being the very first Greyhound bred in Norway to gain the English Champion title. She won 3 CCs, 1 RCC, 2 BOBs and Hound Group:2 among 2 500 hounds in just 5 shows, quite an achievement even for English dogs!
Tea has to date 22 group wins and 10 Best in Shows. More information about this lovely bitch in section "Nice wins" and "Litters"